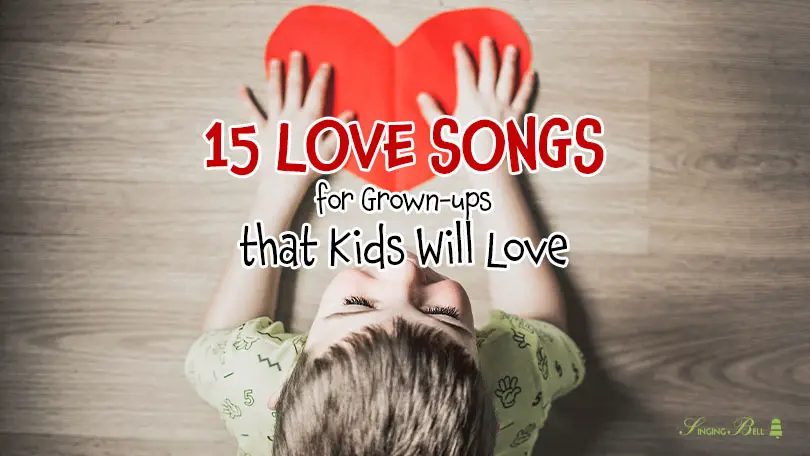 Love is that feeling that, although universal, can acquire different meanings according to a person's age. When it comes to music, love is a recurring theme in songs, but those songs often include lyrics that a kid can't grasp and shouldn't be exposed to.
However, songs about love aren't necessarily unsuitable for kids! Having that in mind, we prepared this list of 15 kid-friendly love songs you can listen to with your little ones. Teachers, every song in the list has its own free printable PDF on a separate page.
Table of Contents
15 Love Songs for Kids
Spanning a period of over 80 years in popular music, these songs belong to various music genres and, along with other kids' songs for Valentine's, they will come in handy on February the 14th or any other day you'd like to talk about love.
Bill Withers – Ain't no sunshine
"Ain't No Sunshine" is a famous 1971 song by Bill Withers that set the beginning of his career as a musician. Although Withers was originally inspired by the 1962 movie Days of Wine and Roses where the characters now and then seem to miss their old life while trying to change it to the better, he wrote a song with which anyone can identify when missing their loved ones.
Since 1971 the song has been covered by many artists like Joe Cocker, Paul McCartney, Sting, Kenny Rogers – just to name a few. In 1999 it was used almost in its entirety in a really memorable scene of the film "Notting Hill" which shows the change of seasons and the passing of time for the leading character, played by Hugh Grant.
"Ain't no sunshine" Printable lyrics PDF
Bruno Mars – Just the way you are
"Just The Way You Are" is the debut solo single by Bruno Mars. Written in 2010 by Bruno Mars, Philip Lawrence, Ari Levine, Khalil Walton and Needlz, the song has a straightforward and clean intention – the need of a man to tell his girl how beautiful she is. In terms of commercial success the song offered Bruno Mars instant recognition and a career take-off.
So far, so good, if it wasn't for this inspired line: "And when you smile the whole world stops and stares for a while" and all of a sudden we find ourselves skydiving above lyrical peaks. And yes, this is a song to endlessly repeat to your little girl, to your terrified freshman, to that insecure teenager of yours; just let the magic wand of love vanish all doubts and all clouds!
"Just the way you are" Printable lyrics PDF
Ben E. King – Stand by me
"Stand by Me" is a timeless classic pop song about love and hope that you will enjoy singing to or with your kids. Written by Ben King, Jerry Leiber and Mike Stoller, it has been loved by millions of people since its release in 1961.
It's not to much to say that the song has climbed beyond success to reach universal acceptance, as in 2015 it was inducted into the National Recording Registry by the Library of Congress, appraised for its significance in cultural, historical and aesthetic terms.
"Stand by me" Printable lyrics PDF
The Archies – Sugar sugar
"Sugar Sugar" is a 1969 song written by Jeff Barry and Andy Kim and performed by the virtual cartoon band The Archies. This cheerful and uplifting song is the biggest success of the band and a representative example of the bubblegum pop music genre in the late 60's.
Although the songs of this type were commercially oriented and intended for broadcasting in the Saturday-morning cartoon series, there is a number of them that have outgrown their initial target and have become American standards. Let yourself indulge into the sweetness of the song, celebrate your sweet love for your kids and have fun!
"Sugar sugar" Printable lyrics PDF
John Legend – All of me
"All of Me" is a beautiful song by John Legend about unconditional love and dedication. It was released in 2013 and dedicated to his wife Chrissy Teigen.
The unbreakable bond of love is a common ground in couples and families as well – parental love is truly of unequaled depth and commitment. So, sing this song out loud to or with your kids and don't be afraid to get emotional (we always do)!
"All of me" Printable lyrics PDF
Adele – Someone like you
"Someone like You" is an emotional love song by Adele, taken from her 2011 album "21". Lyrically, the song is written from a woman's standpoint as she is confronting her ex's new marriage and it actually talks about the end of Adele's affection for her long-time friend and lover in her first "real relationship".
Although breaking up is hard even for adults and a subject that is hard to explain to kids, this beautiful song can be an opportunity to tell kids about family breakups and divorces. Depending on the age of the child, the essential information about a breakup can be revealed without overwhelming them with details they can't process. The feelings of safety and care always come first for a kid,
"Someone like you" Printable lyrics PDF
Celine Dion – My heart will go on
"My Heart Will Go On (Titanic)" is a song composed by James Horner for the 1997's film "Titanic".
The song, performed by Céline Dion, is the one that left its mark on the film's soundtrack, which is rather strange in retrospect as the track was initially commissioned as an instrumental because of the film's already huge budget at the time.  Today, although Céline Dion has released almost thirty studio albums and has had many hits, "My Heart Will Go On" is the most in-demand and acclaimed title in her career.
"My heart will go on" Printable lyrics PDF
Ed Sheeran – Perfect
"Perfect" is a romantic ballad by Ed Sheeran from his third album in 2017. In the song Sheeran narrates his own love story with his wife; the couple knew each other from school and reconnected years later. An unprecedented international success followed, leading to a second version with Beyoncé titled "Perfect Duet", the recording with Andrea Bocelli and the version featuring in the soundtrack of the 2021 Amazon film Cinderella.
It's a song for sweethearts, for hard times with happy endings, for puppy loves that manage to stand the test of time and survive. Listen to it – if you haven't already done so – and sing it with your older kids to draw inspiration and hope. The message is the one and only truth – and is more than enough: True love conquers all.
"Perfect" Printable lyrics PDF
Aerosmith – I don't wanna miss a thing
"I Don't Want to Miss a Thing" is sentimental rock ballad featuring in the 1998 film Armageddon. It was written by Diane Warren and performed by the rock band Aerosmith turning to be their biggest success.
The song is about treasuring every moment spent with your loved ones and missing them even when they are sleeping; and although it might sound as an exaggeration to stay awake watching your partner in his sleep, this is precisely the case with parents and babies – especially newborns. One way or another, the lyrics send a powerful message: to cherish and value each and every moment in your children's lives. So, be there will all your love, spend time together as much as you can and be grateful for the light they bring to your life.
"I don't wanna miss a thing" Printable lyrics PDF
Stevie Wonder – Isn't she lovely
"Isn't She Lovely" is a joyful song by Stevie Wonder written in 1976 and included in his epic album Songs in the Key of Life. The influence and appeal of those compositions still goes on for decades after their release, resulting to the album's addition to the National Recording Registry in 2005.
Wonder drew inspiration to write the song from the birth of his daughter Aisha (who is mentioned in the third verse) and created a piece that any parent can identify with; it brings out the happiness, enthusiasm and awe of the miracle of life and love. If you have a family of your own and have experienced the inimitable sensation of holding your newborn in your hands, or if you are expecting, then this is a song for you! Love creates life, love is life after all.
"Isn't she lovely" Printable lyrics PDF
Frank & Nancy Sinatra – Somethin' Stupid
"Somethin' Stupid" is a beautiful song written and recorded in 1966 by C. Carson Parks. A year later Frank and Nancy Sinatra recorded their version of the song that earned international appraise, making it the only father-daughter duet to ever top the American Hot 100 Billboard. Since then, the 2001 version by Robbie Williams and Nicole Kidman and the 2013 version of Michael Bublé with Reese Witherspoon have drawn successfully the attention of the audience.
This song is about the common feeling of insecurity when we are in love and the courage it takes to express our feelings. Saying "I love you" is not at all stupid, but brave! Moreover, while there are never enough "I love you"s to say to those we care, we have to teach our kids to treat the word "love" wisely and be considerate of the feelings of other people; to say it when they really mean it. A frivolous use of love statements can hurt deeply someone else .
"Somethin' Stupid" Printable lyrics PDF
The Mamas & The Papas – Dream a Little Dream
"Dream a Little Dream of Me" is a beautiful 1931 love song of timeless value; the music was written by Fabian Andre and Wilbur Schwandt while the lyrics were set by Gus Kahn. The first 1931 recordings by Ozzie Nelson, as well as by Wayne King and His Orchestra, with Ernie Birchill in vocals, were followed by more than 60 covers and versions of the song. Musicians are constantly fond of the piece, while the audience never ceases to enjoy it!
In the midst of this plethora of performances it's a hard but delightful task to choose a favorite: starting with the monumental jazz version of Ella Fitzgerald and Louis Armstrong, to the 50's timeless classics of Nat King Cole, Doris Day or Dean Martin; heading to the milestone 1968 recording of Mama Cass, or the 1969 orchestral arrangement by Henry Mancini, to the 1995 version of The Beautiful South, we reach the 21st century with Michael Bublé or Anne Murray – and we are mentioning but a few.
"Dream a Little Dream" Printable lyrics PDF
Leonard Cohen – Dance Me to the End of Love
"Dance Me to the End of Love" is a song by Leonard Cohen from his 1984 album Various Positions. The rhythm is that of Greek Hasapiko dance, probably inspired by Cohen's known affiliation to the Greek culture. Although it appears to be a love song, it's a denouncement of the monstrosities of the Holocaust; in between other brutalities, the Nazis forced a string quartet to play beside the crematoriums in the death camps while waiting to follow their partners to death.
Why listen to this song apart from being seduced by the haunting melody and the profound poetry? It's not only a chance to talk about the holocaust with your kids when they are old enough to understand; It's an inspiration about the power of love that persists even in midst of the deepest darkness.
"Dance me to the End of Love" Printable lyrics PDF
Ilene Woods – So this is love
"So This is Love" is a romantic ballad written in 1949 by Mack David, Jerry Livingston, and Al Hoffman for the soundtrack of Disney's animated film Cinderella. The song is performed by Cinderella (Ilene Woods) and Prince Charming (Mike Douglas), while they are dancing in the castle and falling in love with each other.
The mellow song unfolds the birth of love in one's heart; the magic moment that one surrenders to his affections for someone else. So peaceful and tender, this song resembles a lullaby. Hold your baby in your arms and breath the melody with your soul. So this is love… your true, endless, unconditional love.
"So this is love" Printable lyrics PDF
Whitney Houston – I Will Always Love You
"I Will Always Love You" is a song written in 1973 by Dolly Parton and released a year later in her album Jolene. Parton wrote the song as a farewell to her business partner Porter Wagoner as she wished to pursue a solo career at the time. The song was very successful for Parton, but since 1992 it has been unmistakably imprinted in our minds as Whitney Houston's signature song. The song received huge international acclaim by the time Hοuston recorded it for the soundtrack of her movie The Bodyguard, and despite the years that passed after her death the song is still an on-going success.
What is there to say about Houston's unsurpassed performance of I Will Always Love You? Just one thing, that we are still moved to tears by her delicate soul, while paying our respects to her divine voice. This is a song to listen to with your kids, dive in each other's hugs, and teach them some pop music history!
"I Will Always Love You" Printable lyrics PDF
Love Songs for Kids – Spotify Playlist
Like it? Pin it!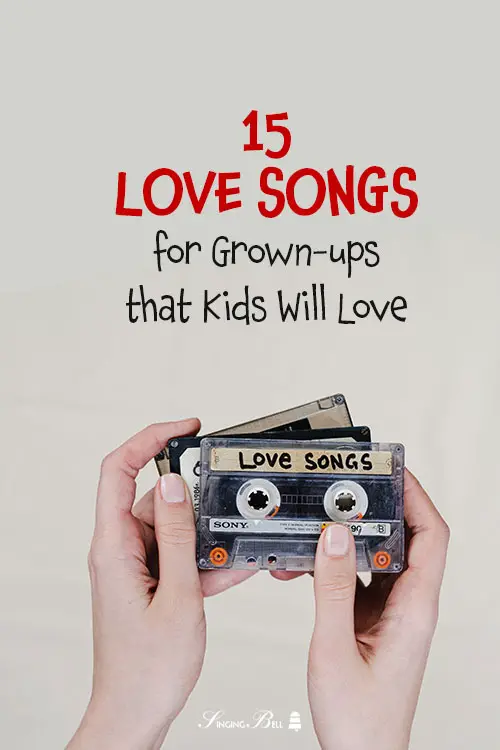 Did you like this post?
You may also like:
10+1 Children's Songs for Valentine's Day with your Kids
30 Valentine's Day Quotes for Kids
30 Sweet, Innocent and Cute Love Quotes for Kids
20 Peace Quotes to Explain Peace and War to Kids
32 Disney Songs for Kids to Listen to on Repeat