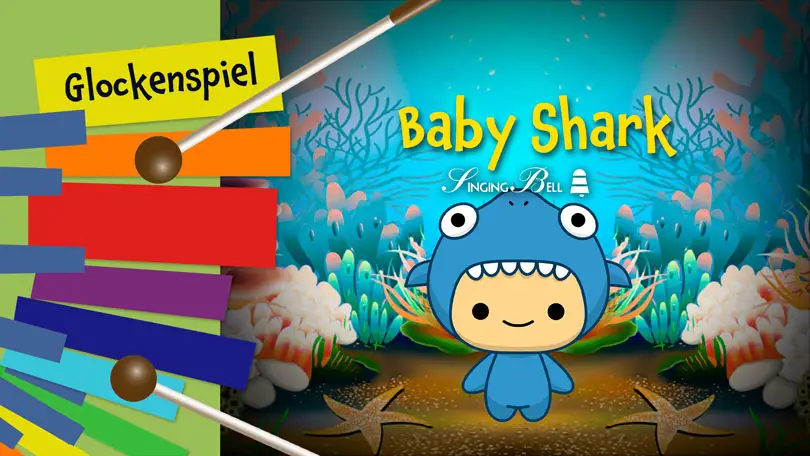 Are you a fan of 'Baby Shark'? Of course, who isn't? It's the most popular children's song on the planet right now – it even has its own dance! Originally a campfire song, "Baby Shark" became viral after Pingfong released a version on YouTube. And if you're a music enthusiast like us, one of your biggest desires is to learn how to play this song on an instrument.
If so, then we're here to tell you that it's definitely possible – all you need is a glockenspiel or xylophone and some patience. In this blog post, we'll breakdown exactly how you can play 'Baby Shark' step-by-step with sheet music with letters and tips along the way. Plus we'll provide helpful video tutorials, a glockenspiel chart and a printable PDF for free download. too!
So get ready: put on your creativity glasses and let's turn 'Baby Shark' into a beautiful piece of music together.
Table of Contents
Glockenspiel / Xylophone Tutorial Video
Watch this video tutorial for Baby Shark on the xylophone or the glockenspiel. It's useful to show how to hold the mallets and how to play the notes.
Baby Shark Glockenspiel / Xylophone Sheet Music and Note Chart
The song of Baby Shark uses only the first 4 notes of a major scale, as you can see on the chart following the notes of the song.
Watch the video a couple of times and study each part at your own pace until you get the hang of it. Remember to use both mallets as much as you can – not only the one that is more convenient for you (e.g. the right one if you're right-handed) as this an important basic technique.
To save this free glockenspiel sheet music of "Baby Shark" to your computer, right click (or tap and hold, on mobile devices) and choose "Save Image As…". Alternatively, you can download the PDF file below.
Free Printable PDF with Glockenspiel / Xylophone Music Sheet with Note Chart and Lyrics

To download a printable PDF file with sheet music for glockenspiel of this song, click on the button above or on the following link.
Baby Shark| Free PDF with Glockenspiel Sheet Music
Click on the button to watch a sing-along video and download a PDF file with lyrics to this song for free.

Did you like this post?
You may also like: