If you're looking for Frozen's Let it Go marimba sheet music, you can have our arrangement for free.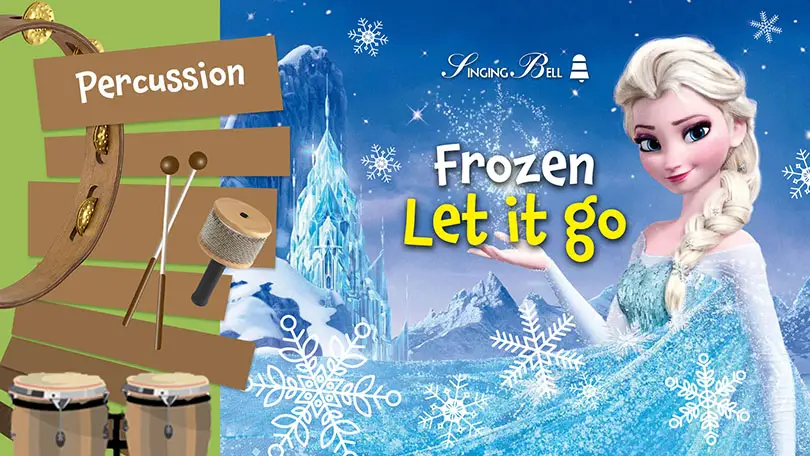 "Let It Go" is a song from Disney's 2013 animated film Frozen. Kristen Anderson-Lopez and Robert Lopez wrote the music and lyrics, while the American actress and singer Idina Menzel, who lent her voice to the role of Queen Elsa, performed it for the film. The song was awarded with an Oscar award in 2014, after it had already experienced global success.
Why that title? Because at the point where we hear the song in the movie, Elsa decides to get rid of her role as a princess. She reveals her magical powers and expresses her true self. This song can be a true inspiration to girls and boys alike!
On this page you can find an arrangement for 2 marimbas and 3 players, and a Printable PDF file with sheet music for free download.
Table of Contents
Let It Go Marimba Arrangement Details
This particular marimba arrangement is for two marimbas and three musicians.
Although the marimba roll in the audio preview below is not reproduced naturally in midi sounds, you will still hear that this is an arrangement that adapts all the elements of the piece and does not lag behind the original work in any way.
Elsa's song is played by the first marimba while the two musicians on the second one complete the part of the orchestra.
Let It Go Marimba Arrangement Sound file
To listen to the marimba arrangement offered above, click on the following player.
Let It Go Marimba Sheet Music PDF
(PDF download button below)
Click on the following images to preview the music sheet.
Click here or on the following button for a free download
of the percussion sheet music in PDF.

Did you like this post?
You may also like:
We Don't Talk about Bruno – Percussion Ensemble Sheet Music
How to Play Do You Want To Build A Snowman (from Frozen) – Percussion Ensemble and Orff Arrangement Sheet Music
How to Play Coldplay's Clocks on the Marimba – Sheet Music and PDF
Havana – Percussion Ensemble Sheet Music
Seven Nation Army – Percussion Ensemble Sheet Music
The Lion Sleeps Tonight – Percussion Ensemble, Orff Arrangement and Solo Marimba Sheet Music