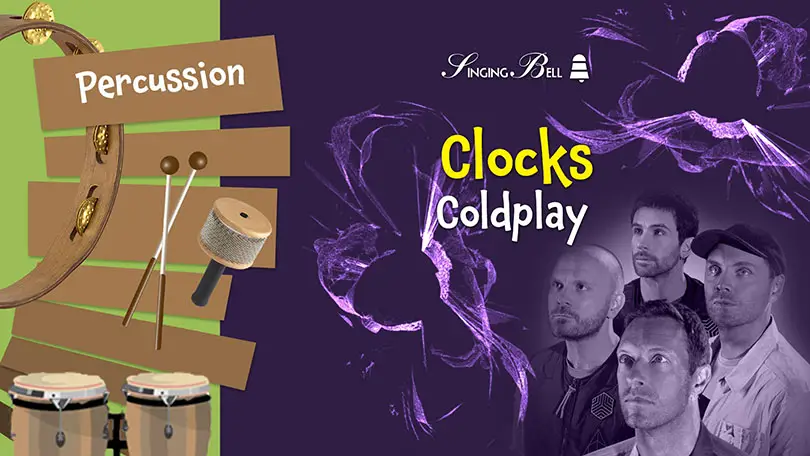 Coldplay's "Clocks" comes from the album A Rush of Blood to the Head which released in 2002. The British band managed to reach the top of the charts with this song, considered by some to be one of the best of the 2000s.
As for the meaning of the lyrics, they are said to refer to a stressful relationship from which the singer does not decide to leave. Thus the contrasts as well as the contradictions are explained.
On this page you can find a solo marimba transcription, and a Printable PDF file with sheet music for free download.
Table of Contents
Arrangement Details
The intro, as in the original song, has a quite minimalist in nature. As expected, the right hand plays the melody of the song, i.e. the singer's part. The left hand accompanies a bass line, which it fills with eighth notes.
Although the score seems simple, the fast speed and repeated notes at the left hand add a degree of difficulty to the piece. However, it is worth trying even by a beginner, as long as the study is done at a slow tempo.
The arrangement follows the E♭ mixolydian key, which is the original key of the recording.
Clocks – Solo Marimba Free Sheet Music PDF
(PDF download button below)
Click on the following images to preview the music sheet.
Click here or on the following button for a free download
of the marimba sheet music in PDF.

Solo Marimba Sound file
To listen to the solo marimba transcription offered above, click on the following player.
Did you like this post?
You may also like:
Havana – Percussion Ensemble Sheet Music
How to Play the Main Theme from Star Wars – Percussion Ensemble & Orff Arrangement Sheet Music
The Pink Panther Theme – Percussion Ensemble and Solo Marimba Sheet Music
Happy Birthday – Percussion Ensemble, Orff and Solo Marimba Sheet Music
Seven Nation Army – Percussion Ensemble Sheet Music
We don't talk about Bruno – Percussion Ensemble Sheet Music