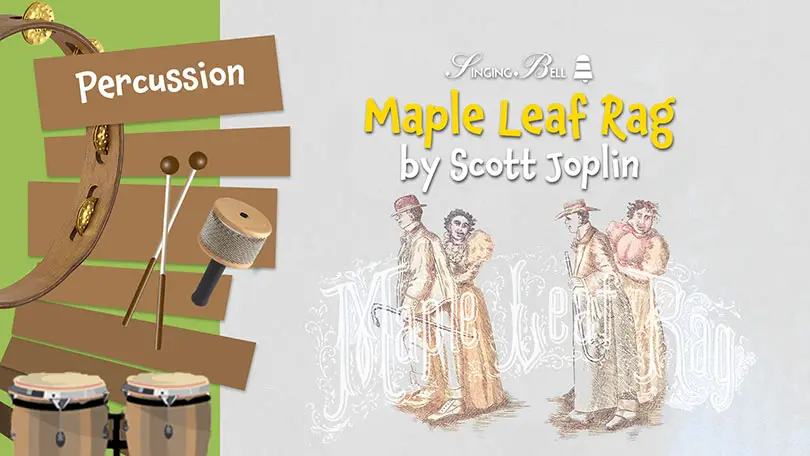 The "Maple Leaf Rag" is a rag time composed by Scott Joplin. Joplin, a pianist himself, was described as the king of rag. "Ragged" means syncopated rhythm, which is the characteristic of this musical style. The song, as a typical ragtime, consists of a series of musical phrases, often repeated, that build the different parts of the piece.
Joplin's composition was published in 1899. Although the contract gave only the minimum royalty to the composer – $0.01 on the sales with a minimum sales price of $0.25 – it is said that the income was enough for the rest of his life. Many artists have continued to record "Maple Leaf" after Joplin's death to our days.
You will find here a PDF file with marimba sheet music (2 players) for free download.
Table of Contents
Sheet Music Details
In the following arrangement the marimba players switch positions, allowing each marimbist to play the bass and treble parts.
The key is C minor, in 2/4 meter. The score is quite demanding in speed, mostly in passages of sixteenth notes. So, it is addressed to students of higher levels or professional musicians.
Maple Leaf – Free Marimba Sheet Music (2 players) PDF
(PDF download button below)
Click on the following images to preview the music sheet.
Click here or on the following button for a free download
of the marimba – 2 players sheet music in PDF.

Marimba Arrangement for Two Players Sound File
To listen to the marimba arrangement offered above, click on the following player.
Maple Leaf Rag for Piano
Listen to the song as it is originally, composed for piano.
Did you like this post?
You may also like:
Flight of the Bumblebee – Solo Marimba Sheet Music
The Pink Panther Theme – Percussion Ensemble and Solo Marimba Sheet Music
Havana – Percussion Ensemble Sheet Music
Seven Nation Army – Percussion Ensemble Sheet Music
We don't talk about Bruno – Percussion Ensemble Sheet Music