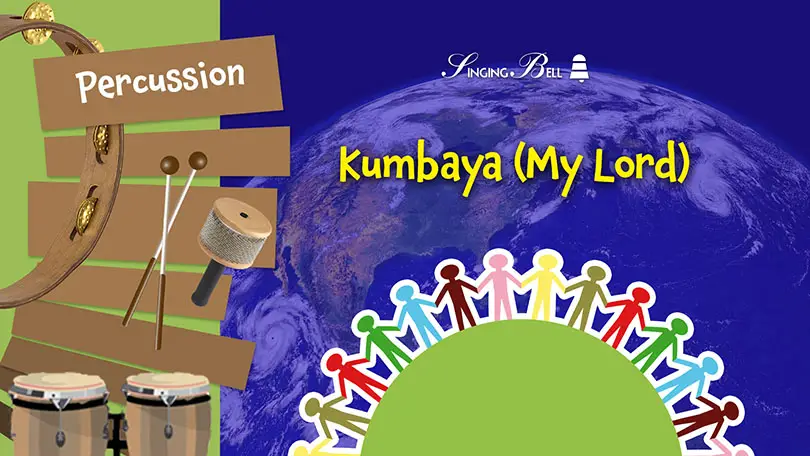 "Kumbaya" is a spiritual song. In Gullah – a language that was spoken by slaves in South Carolina and Georgia – its title means "Come by Yuh" or "Come by Here", and refers to the help of God.
The song is known from the 20's and during the decades of the 50's and the 60's it became popular in scouting and summer camps. Since Joan Baez's recording in 1962, the song was associated with the Civil Rights Movement, but it is also sung during the Christmas period as a religious song.
On this page you can find an Orff arrangement and a Printable PDF file with sheet music for free download.
Table of Contents
Arrangement Details
This Orff arrangement includes:
Voice
Soprano Recorder
Glockenspiel
Alto Metallophone
Soprano Xylophone
Alto Xylophone
Bass Xylophone
Cocoa Bean Rattle
Claves
Djembe
Although the sheet music appears to be long (9 pages), this actually happens because it contains repetitions of the melody. Apart from the voice, it is the flute and the soprano xylophone that play the main melody of the song. The rest of the melodic instruments complete the 2nd voice and the harmony.
The djembe changes between two rhythmical patterns and keeps them as ostinato. The claves don't seem to play much, but, as percussionists know well, the less one plays the more attention needs not to be lost!
Generally this is an easy arrangement that can be played by children or beginner adults.
Kumbaya – Orff Arrangement Free Sheet Music PDF
(PDF download button below)
Click on the following images to preview the music sheet.
Click here or on the following button for a free download
of the percussion sheet music in PDF

Orff Arrangement Sound file
To listen to the percussion arrangement offered above, click on the following player.
Did you like this post?
You may also like:
Ode to Joy – Orff Arrangement Sheet Music and PDF
How to Play Sakura – Orff Arrangement Sheet Music and PDF
Happy Birthday – Percussion Ensemble, Orff and Solo Marimba Sheet Music
How to Play Yankee Doodle with Orff instruments – Orff Arrangement Sheet Music
The Lion Sleeps Tonight – Percussion Ensemble, Orff Arrangement and Solo Marimba Sheet Music
How to Play Do You Want To Build A Snowman (from Frozen) – Percussion Ensemble and Orff Arrangement Sheet Music