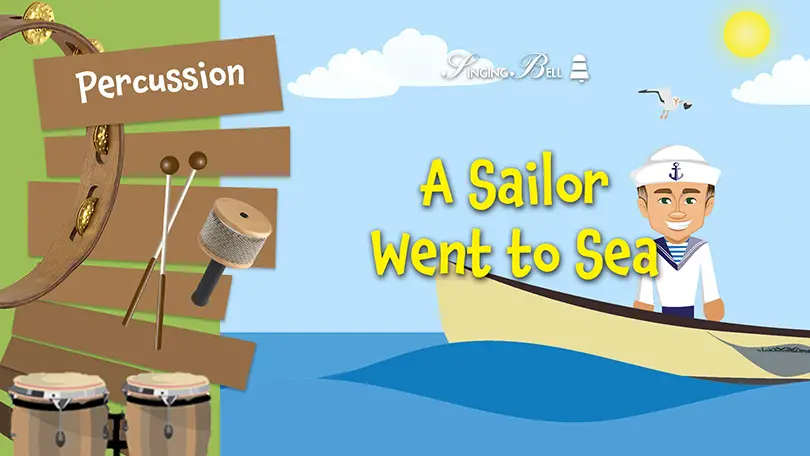 "A sailor went to sea" is a traditional children's nursery rhyme, hand-clapping game and jump-rope rhyme. Now you have the opportunity to play it with your Orff class. It is a go-to tune if you are looking for a song to enrich the repertoire of an end-of-term party.
You can see here a video with different ways to play or clap the game, which was very popular in the 60s.
On this page you can find an Orff arrangement, as well as a Printable PDF file with sheet music for free download.
Table of Contents
Arrangement Details for A Sailor Went To Sea
The arrangement is in C major and 4/4 meter. The glockenspiel accompanies the voice at unison, while the metallophone and the xylophones fill the harmony and the passages. The alto recorder plays a cute introduction.
You need at least 9 players for this arrangement, but you can add as many players as you want to each line. In general, the piece is quite easy for each player, while the outcome is quite impressive!
The Orff arrangement includes the following instruments:
Voice (song)
Alto Recorder
Glockenspiel
Alto Metallophone
Alto xylophone
Bass Xylophone
Suspended Cymbal
Guiro
Tambourine
A Sailor Went To Sea – Orff Arrangement Free Sheet Music PDF
(PDF download button below)
Click on the following images to preview the music sheet.
Click here or on the following button for a free download
of the percussion sheet music in PDF.

Orff Arrangement Sound file
To listen to the percussion arrangement offered above, click on the following player.
Did you like this post?
You may also like:
Ode to Joy – Orff Arrangement Sheet Music and PDF
The Pink Panther Theme – Percussion Ensemble and Solo Marimba Sheet Music
Happy Birthday – Percussion Ensemble, Orff and Solo Marimba Sheet Music
Havana – Percussion Ensemble Sheet Music
Seven Nation Army – Percussion Ensemble Sheet Music
We don't talk about Bruno – Percussion Ensemble Sheet Music