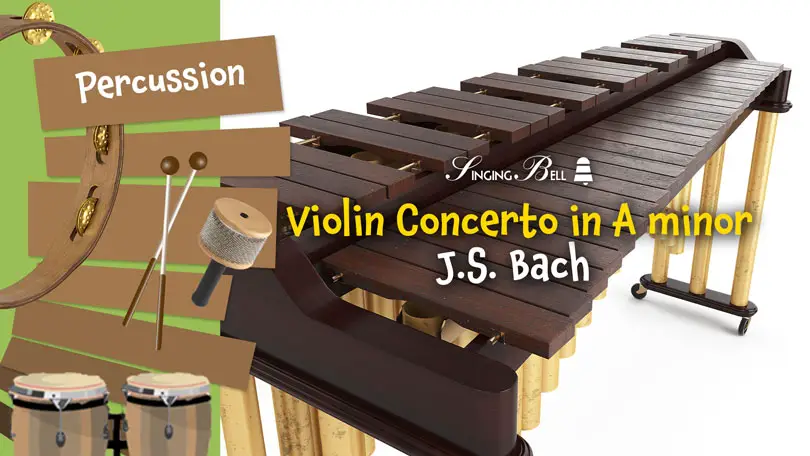 Bach's Violin Concerto in A minor is a title found in almost all the lists of the most popular themes of classical music. On this page you can find Percussion ensemble sheet music and a Printable PDF file for free download.
Like all concerts, it consists of three parts: Allegro moderato, Andante and Allegro assai. The first and third parts are in A minor key while the middle one is in relative C major. It is said that Johann Sebastian Bach composed this work between 1717-1723, although some musicologists claim that he wrote it a few years later.
Here we present the opening 1st movement of the concerto, as that's where the famous theme belongs to, adapted for solo marimba.
Sheet Music Details
The work, although adapted for only two baguettes, moves in a range of two octaves (C4 – D6) and is quite demanding in speed. Thus it is addressed to students of higher levels or professional musicians.
Bach wrote this movement in ritornello form.
Bach's Violin Concerto in A minor (Allegro Moderato) – Free Solo Marimba Sheet Music PDF
(PDF download button below)
Click on the following images to preview the music sheet.
Click here or on the following button for a free download
of the percussion sheet music in PDF.

Bach: Violin Concerto in A minor 1st movement – orchestra
Bach: Violin Concerto in A minor, 1st movement – solo marimba
Did you like this post?
You may also like:
Flight of the Bumblebee – Solo Marimba Sheet Music
The Pink Panther Theme – Percussion Ensemble and Solo Marimba Sheet Music
Havana – Percussion Ensemble Sheet Music
Seven Nation Army – Percussion Ensemble Sheet Music
We don't talk about Bruno – Percussion Ensemble Sheet Music