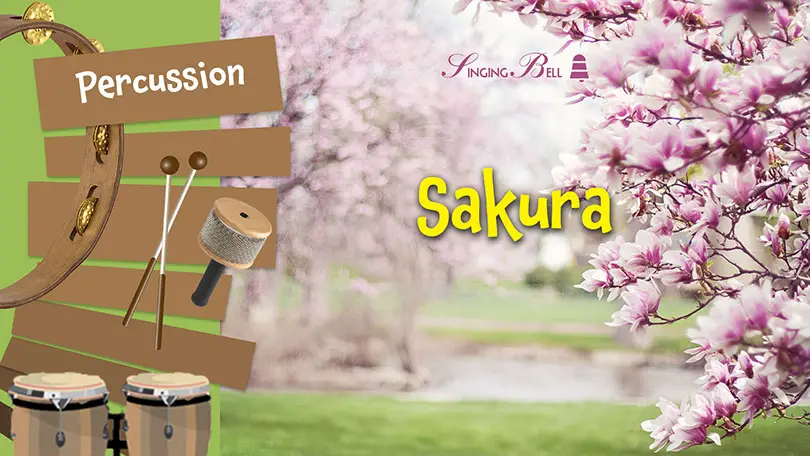 This is a traditional Japanese song about the coming of spring. Contrary to popular belief, the song did not originate in ancient times; it was a popular, urban melody of the Edo period and was adopted as a piece for beginning koto students in the Tokyo Academy of Music Collection of Japanese Koto Music issued in 1888 (in English) by the Department of Education.
The song has been popular since the Meiji period, and the lyrics in their present form were attached then. It is often sung in international settings as a song representative of Japan, and many electronic crosswalks in Japan play the melody as "guidance music".
On this page you can find an Orff arrangement, and Printable PDF files for free download.
Table of Contents
Arrangement Details
This arrangement for Orff class includes the following instruments:
Soprano Recorder
Glockenspiel
Alto Metallophone
Alto Xylophone
Triangle
Wood Blocks
Cabass
Sleigh Bell
Floor Tom
The key is not major or minor, neither one of well-known in west music pentatonic scales. It's about the Japanese pentatonic scale "In", a pentatonic that contains 2 semitones. In this case, with F# for key signature, the notes that form the scale are B – C – E – F# – G – B.
As you can see, flute and alto xylophone play the melody of the song, while the rest of the instruments complete the harmony and rhythm. Flute aimed at a moderate beginner student. The highest note is G5, while the lowest one is E4 and is .
The difficulty level for the rest of the instruments is rather easy. If you want you can "split" the alto metallophone for two students (instead of one playing using both mallets at the same time). In this case one student will play E5 – F#5 while the other will play B4 – A4. The only exception is the first measure for the student playing higher, so you can adjust their notes accordingly an octave higher.
Sakura – Orff Arrangement Free Sheet Music PDF
(PDF download button below)
Click on the following images to preview the music sheet.
Click here or on the following button for a free download
of the percussion sheet music in PDF

Orff Arrangement Sound file
To listen to the percussion arrangement offered above, click on the following player.
Did you like this post?
You may also like:
Ode to Joy – Orff Arrangement Sheet Music and PDF
The Pink Panther Theme – Percussion Ensemble and Solo Marimba Sheet Music
Happy Birthday – Percussion Ensemble, Orff and Solo Marimba Sheet Music
Havana – Percussion Ensemble Sheet Music
Seven Nation Army – Percussion Ensemble Sheet Music
We don't talk about Bruno – Percussion Ensemble Sheet Music