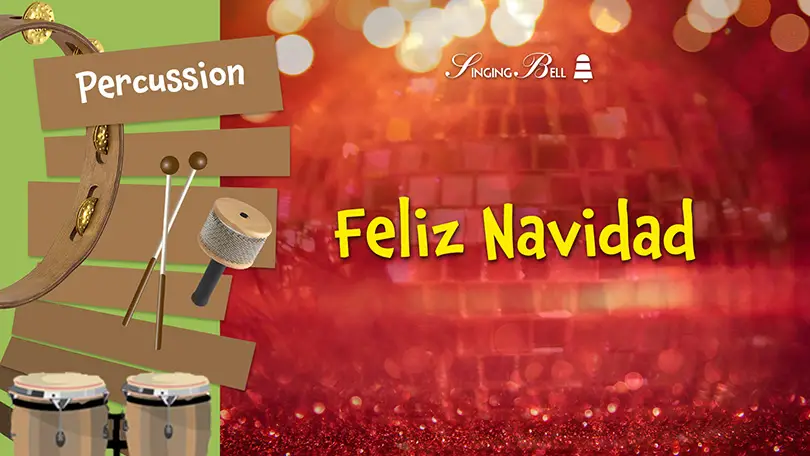 By Jose Feliciano
Copyright Bmg Gold Songs Obo J&H Publishing
"Feliz Navidad" is a song written by the Puerto-Rican singer José Feliciano in 1970.
In an interview, Feliciano revealed that he added English lyrics into the song to boost its airplay time on English radio stations.
On this page you can find Percussion ensemble sheet music and a Printable PDF file for free download.
Table of Contents
Arrangement details
This arrangement in Latin style is in C major in 4/4 meter. The instrumentation needs 10 players. The piece is of intermediate difficulty because of the syncopations that characterize Latin music.
The instruments used are the following:
Glockenspiel
Xylophone
Vibraphone
Marimba (5 octaves, 2 players)
Maracas
Claves
Guiro
Congas
Vibraslap
Feliz Navidad – Percussion Ensemble Free Sheet Music PDF
(PDF download button below)
Click on the following images to preview the music sheet.
Click here or on the following button for a free download
of the percussion sheet music in PDF.

Percussion Arrangement Sound file
To listen to the percussion arrangement offered above, click on the following player.
Did you like this post?
You may also like:
Carol of the Bells – Percussion (Orff) Ensemble and Solo Marimba Sheet Music
Santa Claus is Coming to Town – How to Play on Glockenspiel / Xylophone
Jingle Bells – Percussion or Orff Ensemble and Solo Marimba Sheet Music
We Don't Talk About Bruno – Percussion Ensemble Sheet Music
Havana – Percussion Ensemble Sheet Music
Seven Nation Army – Percussion Ensemble Sheet Music
Shape of you – Percussion Ensemble Sheet Music