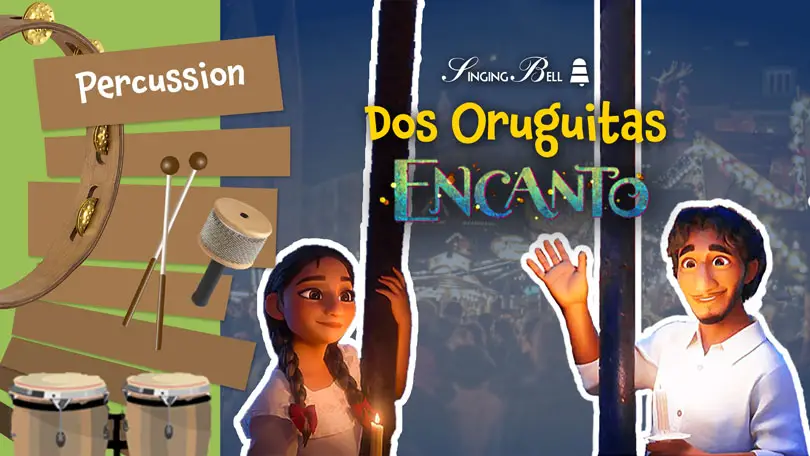 Composed by Lin-Manuel Miranda
"Dos Oruguitas" (meaning "two little caterpillars") is a beautiful song written by Lin-Manuel Miranda and performed by Sebastián Yatra. It tells the story of two caterpillars who are in love and try to stay together despite challenging times; they are growing to become butterflies and find their own future. It is a song about love, change and hope.
"Dos Oruguitas" is one of the songs featured in Disney's 2021 animated film, Encanto, covering one of the most emotional scenes of the movie. Since its release in the end of 2021 it has immediately become an international favorite. No wonder why it is one of the fifteen songs that will advance in the Original Song category for the 94th Academy Awards in 2022. 
On this page you can find Percussion ensemble sheet music and a Printable PDF file for free download.
Arrangement details
Another arrangement aimed at relatively advanced students, just like the songs Havana,  Seven Nation Army and We Don't Talk About Bruno. The instrumentation needs 10 or 11 players and uses:
Glockenspiel
Xylophone
Vibraphone (4 mallets)
Marimba (1 or 2 players, it depends on whether the one plays with 2 or 4 mallets)
Shaker & Tambourine (one player)
High Tom
Low Tom
Suspended Cymbal
Bass drum & Wind Chimes (one player)
Timpani
We could say that the score is quite demanding, but it will satisfy the musicians' musical quests and will make the audience enjoy it.
Dos Oruguitas – Percussion Ensemble Free Sheet Music PDF
(PDF download button below)
Click on the following images to preview the music sheet.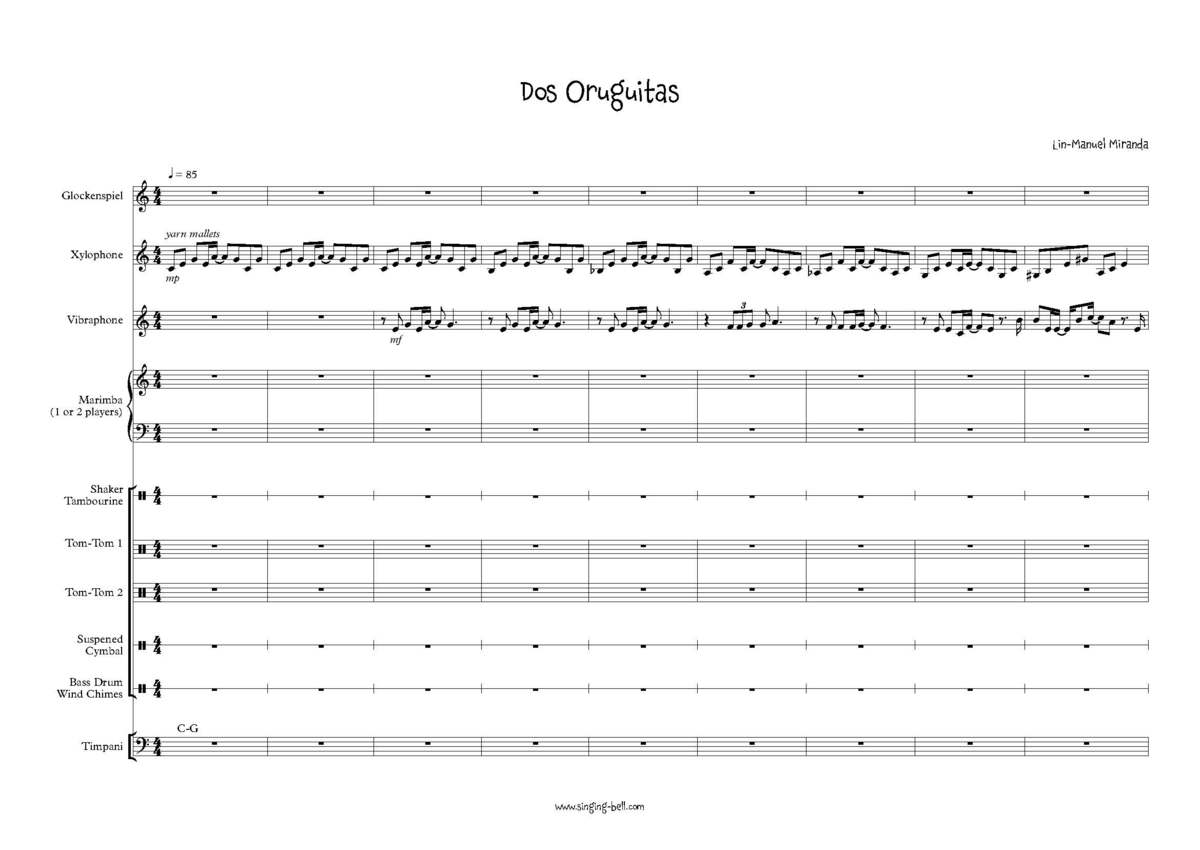 Click here or on the following button for a free download
of the percussion sheet music in PDF.

Percussion Arrangement Sound file
To listen to the percussion arrangement offered above, click on the following player.
Dos Oruguitas – Original Video
Click on the button to watch a karaoke video and
download a PDF file with lyrics to this song for free.

You can click on the button to watch a piano tutorial video and
download a PDF file with piano sheet music for beginners of this song for free.

Click on the button to download a free printable PDF file with
guitar music sheet and chords of this song.

Did you like this post?
You may also like:
We Don't Talk About Bruno – Percussion Ensemble Sheet Music
Havana – Percussion Ensemble Sheet Music
Seven Nation Army – Percussion Ensemble Sheet Music
Shape of you – Percussion Ensemble Sheet Music