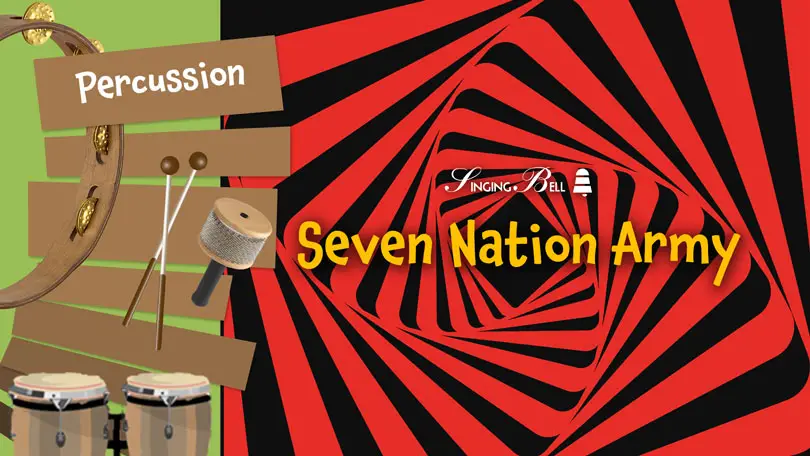 Performed by White Stripes

"Seven Nation Army" is a song by the band White Stripes, which has become legendary thanks to its simplicity and also due to becoming a European football anthem, as audiences chant a series of "oh" sounds (or the name of an athlete) to the tune of the song's riff.
As it's typical for White Stripes, the instruments used are only drums and a guitar that accompany the vocals. The song's characteristic riff resembles the sound of a bass guitar, but is actually played with a semi-acoustic guitar connected to a pedal that lowers the pitch by an octave.
As of March 2022, the song's awarded music video has approximately 450 million views on YouTube, while the song has exceeded 1 billion plays on Spotify.
On this page you can find Percussion ensemble sheet music and a Printable PDF file for free download.
Arrangement Details
The following arrangement is for a percussion ensemble for advanced students (e.g. high school) and includes the following instruments:
Glockenspiel
Vibraphone
Marimba (2players)
Tambourine
Triangle
Cymbals
Wood Block
Timpani
Drum Set
The marimbas and the vibraphone are the instruments that play the melody, with the glockenspiel also completing melodically and the other instruments completing rhythmically in rock style.
Seven Nation Army (White Stripes) – Percussion Ensemble Free Sheet Music PDF
(PDF download button below)
Click on the following images to preview the music sheet.
Click here or on the following button for a free download
of the percussion sheet music in PDF.

Percussion Arrangement Sound file
To listen to the percussion arrangement offered above, click on the following player.
Seven Nation Army – Original Video
Did you like this post?
You may also like:
Havana – Percussion Ensemble Sheet Music
Shape of you – Percussion Ensemble Sheet Music
We don't talk about Bruno – Percussion Ensemble Sheet Music