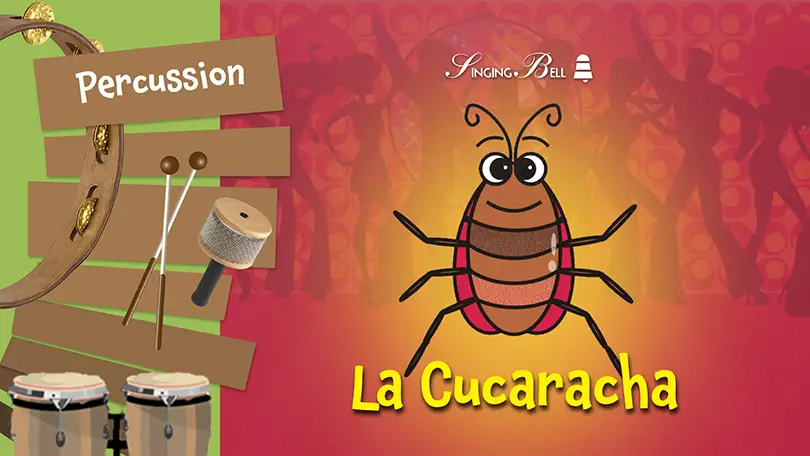 "La Cucaracha" is a Spanish folk song that became popular in Mexico between 1910-1920, during the Mexican Revolution. The origins of the song are unknown, but it was created for Victoriano Huerta, a Mexican military officer and 35th President of Mexico, known for the addiction issues he used to have. 
As playful as it is, with its original Spanish or English lyrics, La Cucaracha is ideal to be played with Orff instruments.
Find here an Orff arrangement and a Printable PDF file for free download for "La Cucaracha". This lovely, happy song urges children and grown-ups alike to sing and dance.
Table of Contents
Arrangement Details
We present here an Orff arrangement of the song if you want to appeal to younger players or beginners. The score is in F major key and 3/4 meter.
You need 9 musicians and the following musical instruments:
Glockenspiel
Alto Metallophone
Soprano Xylophone
Alto Xylophone
Bass Xylophone
Maracas
Tambourine
Guiro
Floor Tom
La Cucaracha – Orff Arrangement Free Sheet Music PDF
(PDF download button below)
Click on the following images to preview the music sheet.
Click here or on the following button for a free download
of the percussion sheet music in PDF.

Percussion Arrangement Sound file
To listen to the percussion arrangement offered above, click on the following player.
Did you like this post?
You may also like:
Twinkle, Twinkle, Little Star – Orff Arrangement and Solo Marimba Sheet Music
Carol of the Bells – How to Play on Glockenspiel / Xylophone (with Tutorial Video)
Feliz Navidad – How to Play on Glockenspiel / Xylophone (with Tutorial Video)
Havana – Percussion Ensemble Sheet Music
Seven Nation Army – Percussion Ensemble Sheet Music
We Don't Talk about Bruno – Percussion Ensemble Sheet Music