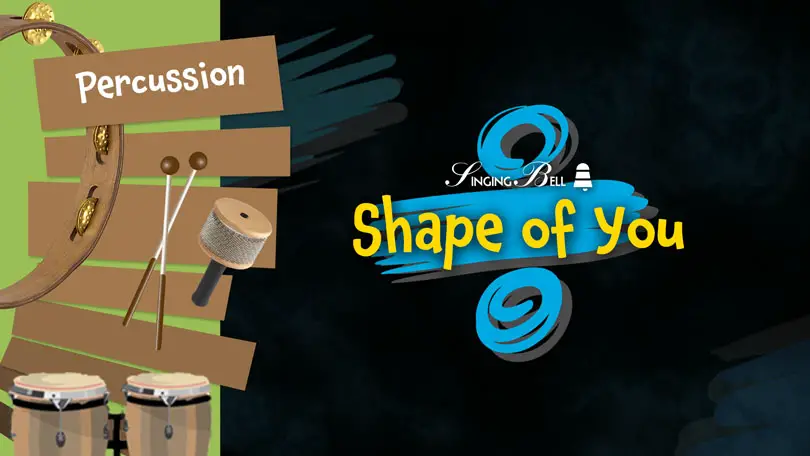 Performed by Ed Sheeran

"Shape of You" is one of Ed Sheeran's most successful songs. It was written by Ed Sheeran, Steve Mac and Johnny McDaid, released as a single in 2017 and it peaked at number one on the singles charts of 34 countries. As Sheeran had written all the songs he wanted for his next album "÷" (Divide), the song was therefore not intended to be included in the album.
Its musical style is Jamaican-influenced pop and sounds tropical, with Sheeran singing over a marimba-fueled percussive melodic line. As of March 2022, the song's music video has more than 5.6 billion views on YouTube and the song itself has more than 3 billion plays on Spotify.
On this page you can find Percussion ensemble sheet music and a Printable PDF file for free download.
Arrangement Details
Like Havana and Seven Nation Army, this is one more quite demanding percussion arrangement. The score is addressed to rather experienced students and musicians. Instrumentation includes:
Glockenspiel
Xylophone
Vibraphone
Marimba (2players)
Timpani
Maracas
Cajon
Tambourine
Bass Drum
As expected, marimbas, vibraphone and xylophone have the principal role, requiring more skills, while glockenspiel is clearly more easy and fills out the theme. Rhythmical motives and ostinati keep the beat and peak as the song goes on.
Shape of You (Ed Sheeran) – Percussion Ensemble Free Sheet Music PDF
(PDF download button below)
Click on the following images to preview the music sheet.
Click here or on the following button for a free download
of the percussion sheet music in PDF.

Percussion Arrangement Sound file
To listen to the percussion arrangement offered above, click on the following player.
Shape of You – Original Video
Did you like this post?
You may also like:
Havana – Percussion Ensemble Sheet Music
Seven Nation Army – Percussion Ensemble Sheet Music
We don't talk about Bruno – Percussion Ensemble Sheet Music