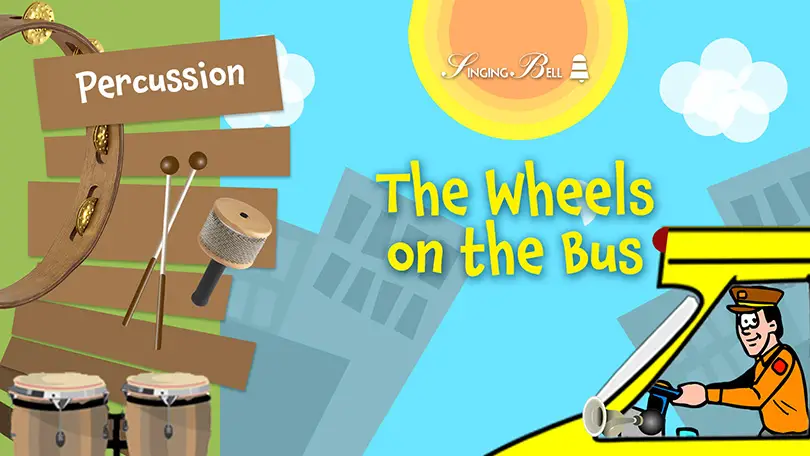 "The Wheels on the Bus" is one of the most popular songs for children. It is a "repetitive song" as it is cyclically-structured, so that it's easy for children to learn and participate.
The melody is actually based on "Here We Go Round the Mulberry Bush", a popular circle-dance song.
On this page you can find a percussion ensemble arrangement, an easier Orff arrangement, and Printable PDF files for free download.
Table of Contents
Arrangement Details for The Wheels On The Bus
The Orff arrangement includes:
Glockenspiel
Alto Metallophone
Soprano Xylophone
Alto Xylophone
Bass Xylophone
Triangle
Guiro
Woodblocks
Tambourine
One more easy Orff arrangement for a nursery rhyme that children love. The soprano xylophone doubles the voice, while the altos (metallophone and xylophone) "fill in" the harmony. Of course, the bass has the bass-line and the rhythm instruments keep the beat.
The song is appealing for beginner students of the Alto Metallophone, as it changes only between two notes (F – C).
Watch out for the one who plays the triangle: they are responsible for the intro and they have to pay attention to the repetition, indicating that the song starts again!
The key of the song is F major and the time signature 4/4.
The Wheels On The Bus – Orff Arrangement Free Sheet Music PDF
(PDF download button below)
Click on the following images to preview the music sheet.
Click here or on the following button for a free download
of the percussion sheet music in PDF

Orff Arrangement Sound file
To listen to the percussion arrangement offered above, click on the following player.
Did you like this post?
You may also like:
Ode to Joy – Orff Arrangement Sheet Music and PDF
Five Little Monkeys with Orff Instruments – Orff Arrangement Sheet Music
Happy Birthday – Percussion Ensemble, Orff and Solo Marimba Sheet Music
Kumbaya – Orff Arrangement Sheet Music and PDF
La Cucaracha with Orff Instruments – Orff Arrangement Sheet Music
Bingo Song – Orff Arrangement Sheet Music and PDF