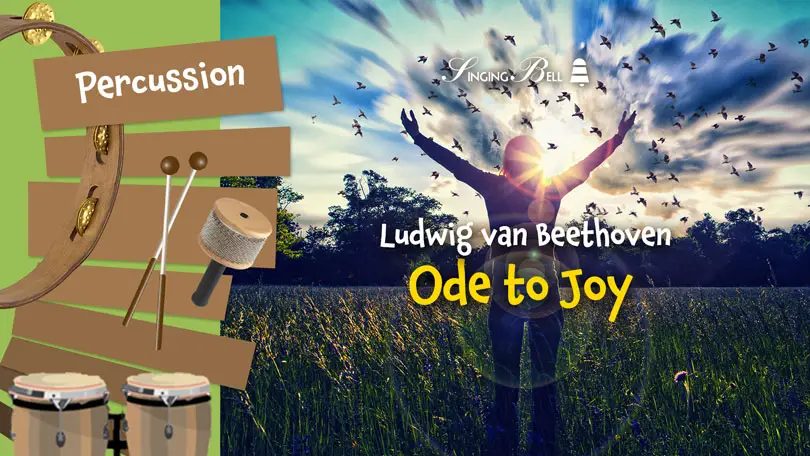 "Ode To Joy" is the main theme of Beethoven's 9th Symphony. Although you'll find here an Orff arrangement, the theme is introduced by a chorus at the fourth (final) movement of the Symphony. Since the theme's musical structure is simple in terms of rhythm and notes, the tune belongs to the basic music education repertoire.
On this page you can find an Orff arrangement and Printable PDF files for free download.
Table of Contents
Arrangement Details
Not only one of the most well known classical music themes, but also one of the simplest tunes to play. As you have already seen, here you'll find an Orff arrangement, and sheet music. We present it here in the original key which is G major.
Soprano Glockenspiel
Alto Glockenspiel
Alto Metallophone
Bass Xylophone
Triangle
Ode to Joy – Orff Arrangement Free Sheet Music PDF
(PDF download button below)
Click on the following images to preview the music sheet.
Click here or on the following button for a free download
of the percussion sheet music in PDF.

Orff Arrangement Sound file
To listen to the percussion arrangement offered above, click on the following player.
Ode to Joy Theme – Video
If you'd like to see the original German lyrics of Beethoven's Ode an die Freude
and download a printable lyrics PDF file for free, click on this button:

To read the lyrics of "Joyful, Joyful we adore thee" set to Beethoven's "Ode To Joy"
and download a PDF file with lyrics for free, click on this button:

Did you like this post?
You might also like:
Havana – Percussion Ensemble Sheet Music
Seven Nation Army – Percussion Ensemble Sheet Music
We don't talk about Bruno – Percussion Ensemble Sheet Music