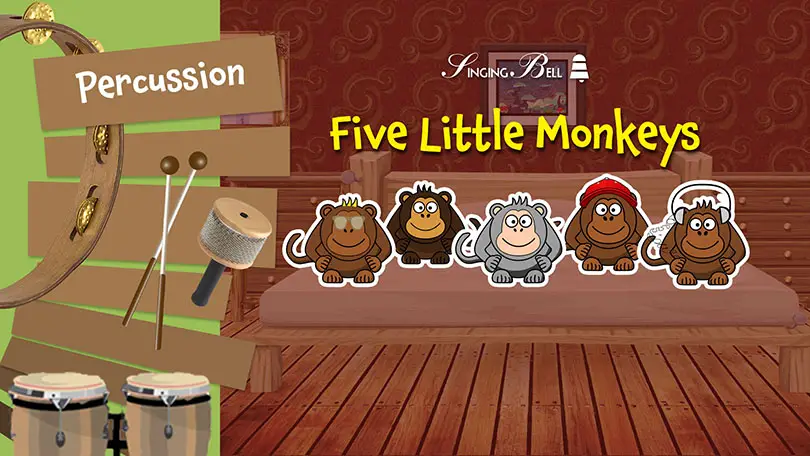 "Five Little Monkeys" is a "repetitive" nursery rhyme, that means the text stays same for every turn, with only a small part of a verse changing every time. The song is about five playful monkeys who pretend they are going to bed, but they act silly instead and jump on the bed. One by one they fall from the bed and get hurt.
On this page you can find an Orff arrangement, and a Printable PDF file with sheet music for free download.
Table of Contents
Arrangement Details
This Orff arrangement includes:
Glockenspiel
Alto Metallophone
Soprano Xylophone
Alto Xylophone
Bass Xylophone
Guiro
Triangle
Tambourine
Floor Tom or Tom
In 4/4 and F major, this arrangement will delight all the young musicians in the school orchestra.
Children love to play easy and well-known songs on Orff instruments, even more so when the orchestration is simple and easy to understand.
Here, the soprano xylophone doubles the melody of the song, while the rest of the mallets complement the harmony with long values. The guiro and the tom are rhythmically complemented by the triangle and the tambourine.
Sing and play in a parallel way. All children, more or less advanced, can have a role in the orchestra. In an orchestration, no sequence and no note is less important than another!
Five Little Monkeys – Orff Arrangement Free Sheet Music PDF
(PDF download button below)
Click on the following images to preview the music sheet.
Click here or on the following button for a free download
of the percussion sheet music in PDF

Orff Arrangement Sound file
To listen to the percussion arrangement offered above, click on the following player.
Did you like this post?
You may also like:
Ode to Joy – Orff Arrangement Sheet Music and PDF
The Pink Panther Theme – Percussion Ensemble and Solo Marimba Sheet Music
Happy Birthday – Percussion Ensemble, Orff and Solo Marimba Sheet Music
Havana – Percussion Ensemble Sheet Music
Seven Nation Army – Percussion Ensemble Sheet Music
We don't talk about Bruno – Percussion Ensemble Sheet Music