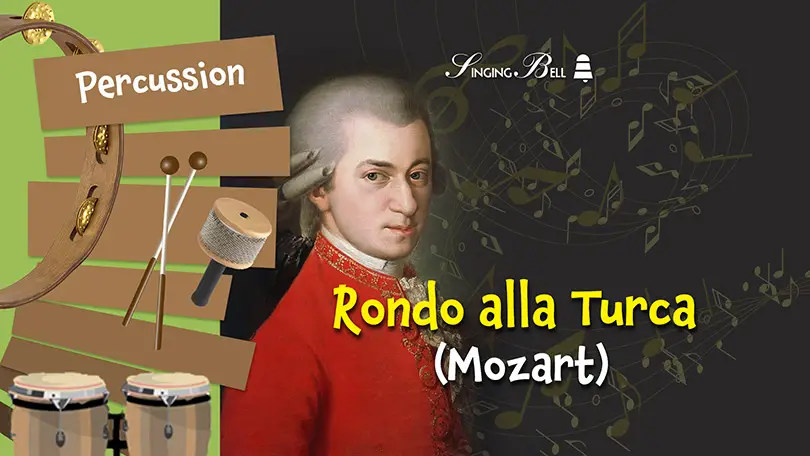 Mozart's Rondo alla Turca (Turkish March) is one of the most famous melodies in the classical music repertoire. Rondo is called the form in which a basic theme reappears making circles (rounds) within the piece. Other themes are presented in between, which in turn can be heard more than once, making their own cycle.
Mozart composed this work influenced by the marches of Turkish army that had then reached central Europe.
On this page you can find Mozart's Rondo alla Turca Percussion ensemble sheet music and a Printable PDF file for free.
Table of Contents
Arrangement details
This arrangement is in C major in 4/4 meter. The instrumentation needs at least 7 players and we mention that glockenspiel, xylophone, 2nd marimba and timpani parts are at easy level while vibraphone, 1st marimba and drum set players play at intermediate level. The instruments used are the following:
Glockenspiel
Xylophone
Vibraphone
Marimba (5 octaves, 2 players)
Timpani (C – G – F)
Drum set (Ride Cymbal, Hi-hat Cymbal, Snare drum)
Rondo alla Turca – Percussion Ensemble Free Sheet Music PDF
(PDF download button below)
Click on the following images to preview the music sheet.
Click here or on the following button for a free download
of the percussion sheet music in PDF.

Percussion Arrangement Sound file
To listen to the percussion arrangement offered above, click on the following player.
Did you like this post?
You may also like:
Carol of the Bells – Percussion (Orff) Ensemble and Solo Marimba Sheet Music
Santa Claus is Coming to Town – How to Play on Glockenspiel / Xylophone
Jingle Bells – Percussion or Orff Ensemble and Solo Marimba Sheet Music
We Don't Talk About Bruno – Percussion Ensemble Sheet Music
Havana – Percussion Ensemble Sheet Music
Seven Nation Army – Percussion Ensemble Sheet Music
Shape of you – Percussion Ensemble Sheet Music