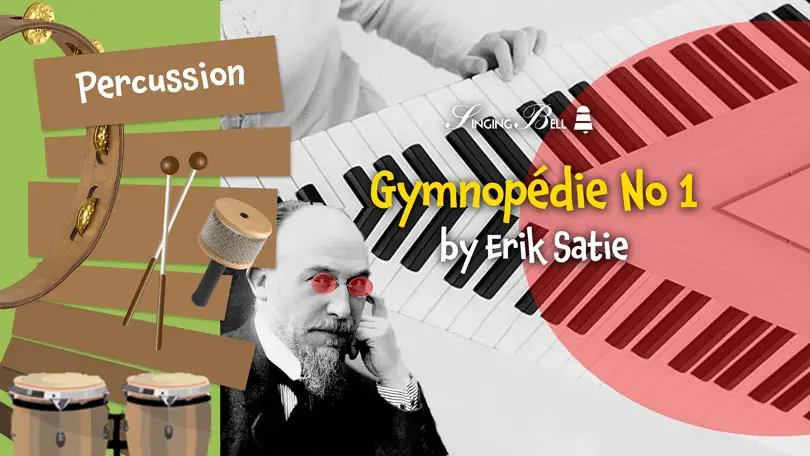 French composer Erik Satie wrote the 3 Gymnopédies between 1888 -1895. The name comes from the Greek word "γυμνοπαιδίες" where "γυμνο" means naked and "παιδίες" means child games, mostly in groups. This was the name of the annual festival in ancient Sparta in honor of the fallen soldiers where boys danced and performed exercises free from their weapons and clothing.
The three pieces for piano by the Parisian composer are really "naked" of intricate melodies, rhythmic values ​​and patterns, or drastic changes in tone, mood or speed. At a time when everyone was writing concerts, symphonies and symphonic poems, Satie paved the way for ambient music. Gymnopedies are three pieces similar in structure, quite abstract and characterized by calm.

On this page you can find a vibraphone arrangement for Gymnopédie No.1, download a PDF file with vibraphone sheet music for free. Additionally you can listen the original composition by piano and by orchestra too  – in a Claude Debussy's orchestration.
Sheet Music Details
As mentioned above, this piece is characteristically calm and relaxing. Since the tempo is slow, the musical interpretation requires not speed but sound quality skills. The musician will play with four mallets.

Satie's Gymnopedie No. 1 – Free Solo Vibraphone Sheet Music PDF
(PDF download button below)
Click on the following images to preview the music sheet.
Click here or on the following button for a free download
of the percussion sheet music in PDF.

Satie's Gymnopedie No. 1 – Piano Video
Satie's Gymnopedie No. 1 (orchestrated by Debussy) – Orchestra Video
Did you like this post?
You may also like:
Bach's Violin Concerto in A minor – Solo Marimba Sheet Music
The Pink Panther Theme – Percussion Ensemble and Solo Marimba Sheet Music
Havana – Percussion Ensemble Sheet Music
Seven Nation Army – Percussion Ensemble Sheet Music
We don't talk about Bruno – Percussion Ensemble Sheet Music