This theme was ideal for a cover, so here's a Jurassic Park Percussion arrangement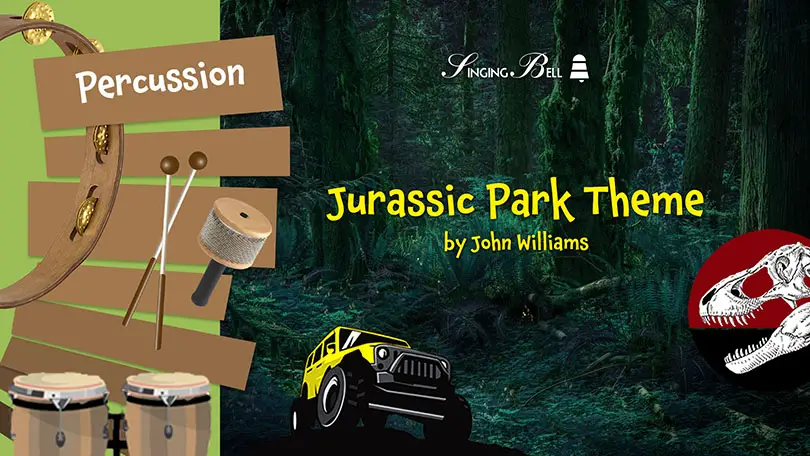 John Williams composed the Jurassic Park theme, which is especially loved by the cinema-loving public. The 1993 science fiction film of the same name was directed by Steven Spielberg. Besides actual actors, the film featured several de-extinct dinosaurs which were made with the help of remarkable special effects, of course.
On this page you can find a percussion ensemble arrangement and a Printable PDF file with sheet music for free download.
Table of Contents
Jurassic Park Arrangement Details
The percussion arrangement available here includes the following instruments:
Glockenspiel
Marimba 1
Vibraphone
Marimba 5 octaves (2 players)
Triangle, Wind Chimes, Cymbals Pair (1 player)
Suspended Cymbal (with soft mallets)
Timbani B♭ – F – E♭
This is a more demanding arrangement that we wouldn't recommend for beginner-level players. At least 8 intermediate musicians are needed, with the glockenspiel, marimba 1 and vibraphone playing the main phrases of the melody. Less experienced musicians could play the rest of the instruments.
The key is B♭ major and you'll notice that the meter, although at 4/4, changes twice – first on measure 6 and once more, 5 measures before the end of the piece.
Jurassic Park Percussion Ensemble Free Sheet Music PDF
(PDF download button below)
Click on the following images to preview the music sheet.
Click here or on the following button for a free download
of the percussion sheet music in PDF.

Jurassic Park Percussion Ensemble Arrangement Sound file
To listen to the percussion arrangement offered above, click on the following player.
Did you like this post?
You may also like:
Ode to Joy – Orff Arrangement Sheet Music and PDF
The Pink Panther Theme – Percussion Ensemble and Solo Marimba Sheet Music
Happy Birthday – Percussion Ensemble, Orff and Solo Marimba Sheet Music
Havana – Percussion Ensemble Sheet Music
Seven Nation Army – Percussion Ensemble Sheet Music
We don't talk about Bruno – Percussion Ensemble Sheet Music