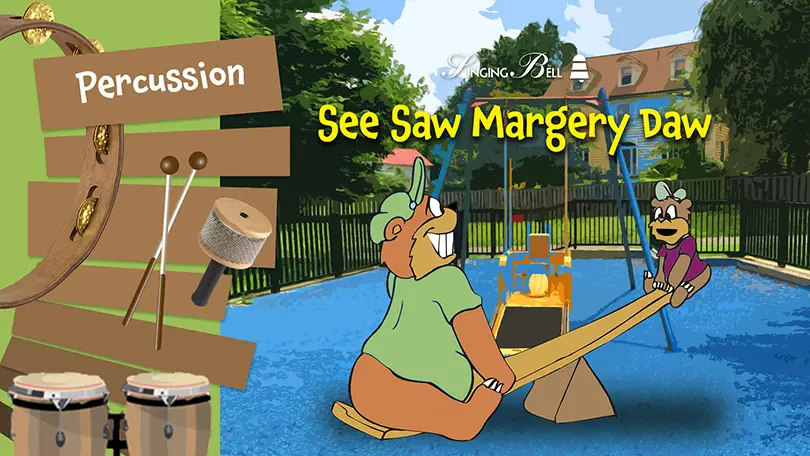 "See Saw Margery Daw" is a popular English language nursery rhyme, folk song and playground singing game. The rhyme first appeared in its modern form in Mother Goose's Melody, published in London in around 1765. It may have its origins as a work song for sawyers, helping to keep rhythm when using a two-person saw.
On this page you can find an Orff arrangement, and a Printable PDF file with sheet music for free download.
Table of Contents
Arrangement Details
The Orff arrangement includes:
Alto Recorder
Glockenspiel
Alto Metallophone
Alto Xylophone
Bass Xylophone
Triangle
Tambourine
2 Wood Blocks
This is a very interesting arrangement if you want to teach the 6/8 measure in a simple way. First of all ask the children to sing the song while clapping and keep the beat with eighth notes. Since they will learn it in this way, they can play all together, following Alto Xylophone's and Woodblock's beat.
Because of the key that is in G major, we propose Alto Recorder, considering that it easier to play. However, you can replace it with Soprano one, as long as you read the score for this instrument an octave lower.
See Saw Margery Daw – Orff Arrangement Free Sheet Music PDF
(PDF download button below)
Click on the following images to preview the music sheet.
Click here or on the following button for a free download
of the percussion sheet music in PDF

Orff Arrangement Sound file
To listen to the percussion arrangement offered above, click on the following player.
Did you like this post?
You may also like:
A Ram Sam Sam with Orff Instruments – Orff Arrangement Sheet Music
Five Little Monkeys with Orff Instruments – Orff Arrangement Sheet Music
The Bingo Song – Orff Arrangement Sheet Music and PDF
Carol of the Bells – Percussion (Orff) Ensemble and Solo Marimba Sheet Music
The Lion Sleeps Tonight – Percussion Ensemble, Orff Arrangement and Solo Marimba Sheet Music
Do You Want To Build A Snowman (from Frozen) – Percussion Ensemble and Orff Arrangement Sheet Music