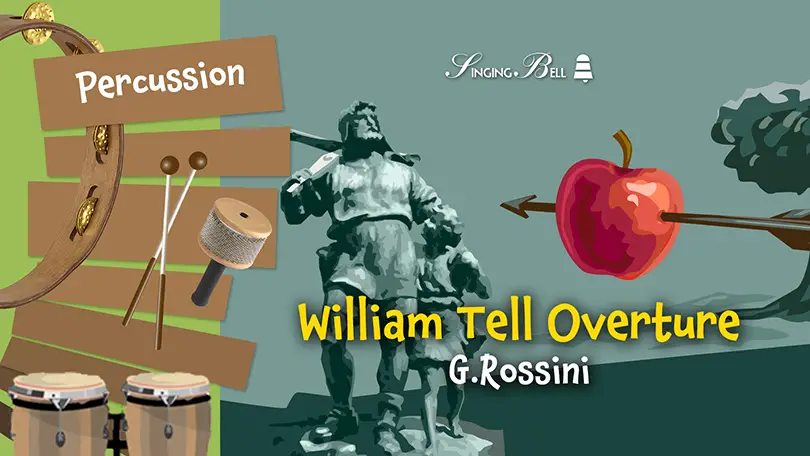 By Gioachino Rossini
William Tell is a French-language opera written by the Italian composer Gioachino Rossini. It was the last of Rossini's 39 operas, although it premiered in 1829, almost 40 years before the composer's death in1868. The Overture's main theme became one of the most favorite topics amongst friends of classical music and for the general audience too, as it remains one of the standard titles in the orchestra repertoire.
Ultimately, it's about descriptive music: through the sounds of the orchestra and the vivid rhythmic patterns, the overture successfully manages to portray a storm and the arrival of soldiers known as the "March of the Swiss Soldiers".
The TV and radio series The Lone Ranger used Rossini's theme, so this particular music was once more associated with riders and galloping.
On this page you can find Percussion ensemble sheet music for overture's final theme and a Printable PDF file for free download.
Arrangement details
The arrangement aimed at relatively advanced students, just like the songs Havana, Seven Nation Army and We Don't Talk About Bruno. The instrumentation needs 9 players and uses:
Glockenspiel
Xylophone
Vibraphone
Marimba (2 players)
Shaker & Tambourine (one player)
Triangle
Cymbals
Bass drum
Timpani
William Tell Overture – Percussion Ensemble Free Sheet Music PDF
(PDF download button below)
Click on the following images to preview the music sheet.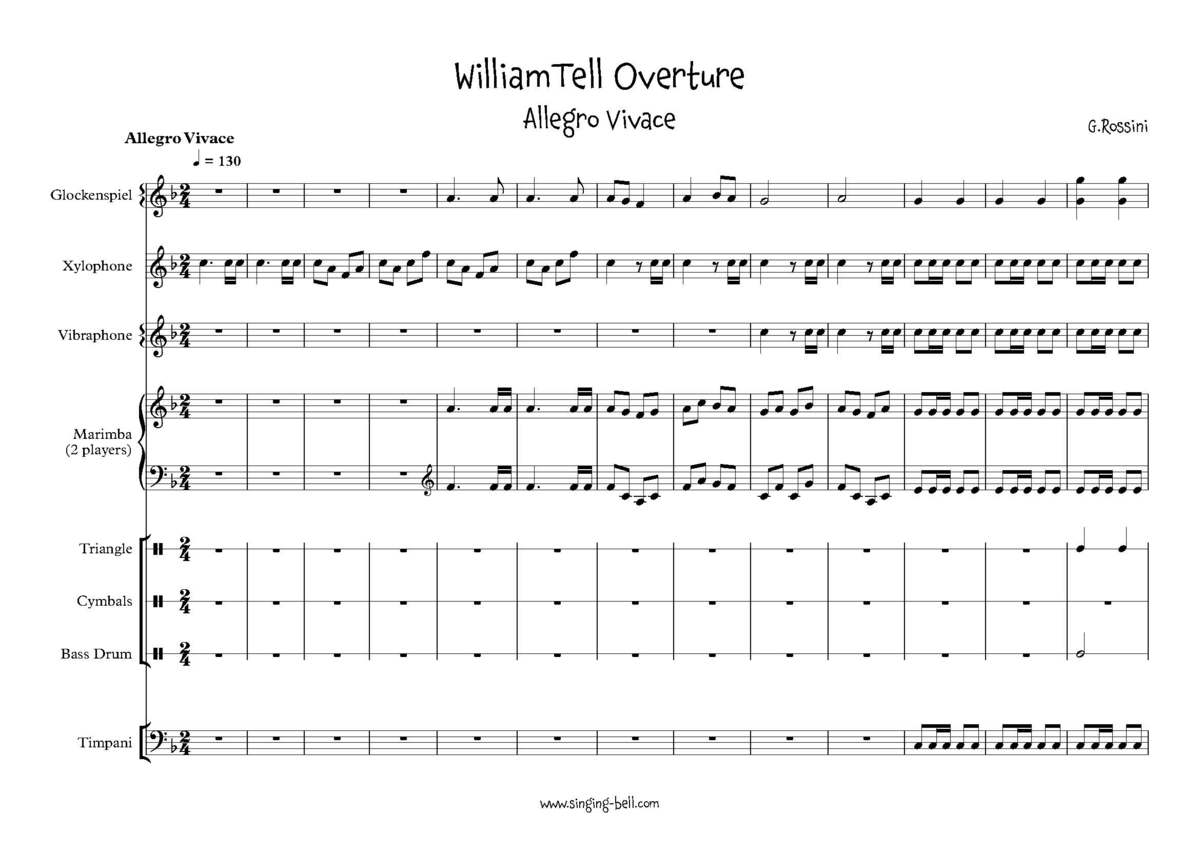 Click here or on the following button for a free download
of the percussion sheet music in PDF.

Percussion Arrangement Sound file
To listen to the percussion arrangement offered above, click on the following player.
William Tell Overture – Orchestra Video
Did you like this post?
You may also like:
The Pink Panther Theme – Percussion Ensemble and Solo Marimba Sheet Music
Brahms' Hungarian Dance No.5 – Solo Marimba Sheet Music
Für Elise – Solo Marimba Sheet Music
Ode to Joy – Orff Arrangement Sheet Music and PDF
We Don't Talk About Bruno – Percussion Ensemble Sheet Music
Havana – Percussion Ensemble Sheet Music
Seven Nation Army – Percussion Ensemble Sheet Music
Shape of you – Percussion Ensemble Sheet Music