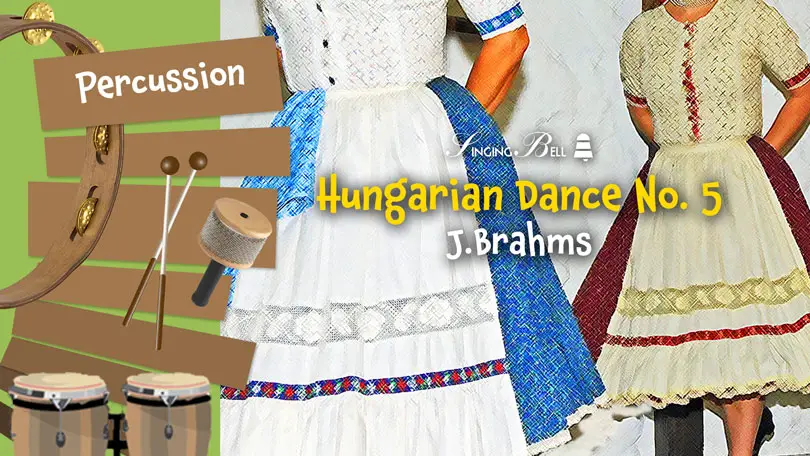 Brahms completed his 21 Hungarian Dances for orchestra in 1879. As the tittle suggests, these dances were inspired by melodies and rhythms of the Hungarian tradition. Brahms initially wrote the dances for piano for four hands. What he achieved was to attribute the liveliness and the intense dancing character to these compositions. Then, he also orchestrated his work by highlighting those distinctive melodic lines with the richness of the orchestra's sound colors.
Johannes Brahms, a pianist, composer and conductor himself, was born in Germany and lived many years in Wien.
Here we present the 5th dance for solo marimba. You can find a PDF file with marimba sheet music for free download.
Table of Contents
Sheet Music Details
The following sheet music is adapted for two baguettes and moves in a range of almost three octaves (G3 – E6). The key is G minor, in 2/4 meter. It is quite demanding in speed, mostly in passages of sixteenth notes. So, it is addressed to students of higher levels or professional musicians.
Brahms' Hungarian Dance No.5 – Free Solo Marimba Sheet Music PDF
(PDF download button below)
Click on the following images to preview the music sheet.
Click here or on the following button for a free download
of the percussion sheet music in PDF.

Brahms' Hungarian Dance No.5 – orchestra
Brahms' Hungarian Dance No.5 – marimba
On the following video you can watch a student play the piece on the marimba, accompanied by piano.
Did you like this post?
You may also like:
Flight of the Bumblebee – Solo Marimba Sheet Music
The Pink Panther Theme – Percussion Ensemble and Solo Marimba Sheet Music
Havana – Percussion Ensemble Sheet Music
Seven Nation Army – Percussion Ensemble Sheet Music
We don't talk about Bruno – Percussion Ensemble Sheet Music